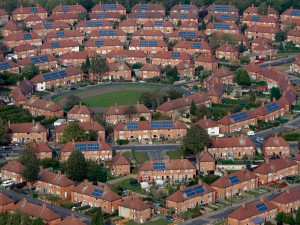 John Cridland, director general of the CBI, has weighed in on the government's highly contentious plans to reduce the feed-in tariff. Speaking at the CBI dinner in Derby on the 10th November, he called the plans "the latest in a string of government own goals" arguing that they create uncertainty for investors and threaten the jobs created by the green industry in its infancy.
Cridland lambasted the climate of instability of government climate policies, stating:
"As you all know, moving the goal posts doesn't just destroy projects and jobs, it creates a mood of uncertainty that puts off investors and they wonder what's coming next," he told the audience of business leaders.
"Some companies have invested heavily in solar photovoltaic systems, and in the supply chains needed to install them. That commitment has been undermined by the feed-in tariff decision, so industry trust and confidence in the government has evaporated. This bodes poorly for investment in future initiatives." (BusinessGreen)
Mr Cridland's comments come as a coalition of solar companies mount their challenge to the changes. Representing the coalition, Prospect Law argues that the 12 December proposed date for the tariff change (just six weeks after the consultation was announced) prejudges the consultation process.
According to the Guardian, the lawyers will also argue that the deadline is "unreasonable" because of its impact on the industry and on groups that have spent time and money developing projects that will have to be cancelled if they can't be completed by 12 December.
Jeremy Leggett, founder of Solarcentury, said: "We expected a proper and fair consultation on the review of Fits. We expected to have the time to plan for the next stage of the development of the market. We were all expecting a new tariff from April 2012. Instead we get a ready-made decision which seriously harms the solar industry and everyone in it and gives us less than six weeks to save the businesses we have built up over multiple years."
"It wouldn't be a massive win. But there's a wider point of principle here about arbitrary government decisions destroying industry." (Guardian)
Alongside the coalition of solar companies, Friends of the Earth intend to lodge a judicial review early next week which the group expects to be heard in court together.
Speaking about the impact of the cuts on social schemes, Andy Johnston, chief executive of Local Energy said "all over the country carefully developed council led schemes which would have drawn thousands out of fuel poverty have been shelved".